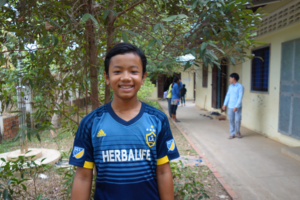 Battambang, KH – Nareth gains confidence in computer and English studies – 31 Mar 2017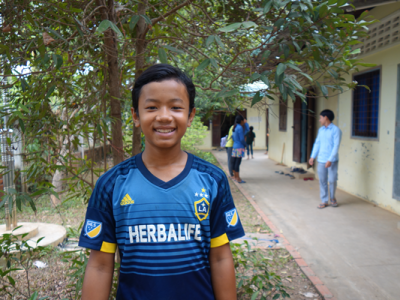 Nareth is a 12 year-old studying in grade 6 at Donteav School (public school). After his morning classes in public school, Nareth comes to the CFI learning center to study English and computer skills.
Nareth had never used a computer before coming to CFI. At first Nareth and felt insecure and nervous in computer class. It took him a few weeks to become familiar with the keyboard and mouse setup and the computer's interface. Today, he studies in the Photoshop 203 course, one of CFI's more advanced computer classes. Whether or not Nareth uses Photoshop later in life, learning advanced software like this is vital to developing the computer literacy needed in tomorrow's job market.
Nareth also attends English classes and is currently learning at the intermediate level in English EMS1C. In this class, Nareth is learning to use question words, object pronouns, simple tense, possessive, imperative, prepositions of place, countable and uncountable nouns, as well as demonstrative pronouns. The courses aim is to give students the ability to communicate in English.
The English and Computer courses that Nareth takes build on each other, too. In English, Nareth has to use Microsoft Word to write short stories. He also develops creative thinking and teamwork skills through group projects.
His teachers in both English and Computer classes say that Nareth stands out for his strong learning skills and determination. He attends class regularly and has never had any problems with his learning or behavior. Nareth is confident and is quick to ask for help from his teachers and friends, when he doesn't understand something. Nareth now is very excited about attending computer classes and is eager to acquire more knowledge and skills.
Challenges he experiences are similar to other students. Because he doesn't own computer in his home where he can practice, he and his classmates have difficulty remembering their lessons. This is why the CFI computer courses include regular review in the class schedule.
Before starting any new lesson the teachers ask questions related to previous lessons to understand how much students can recall. Nareth and his classmates try hard to memorize each lesson at home from their notebooks.
English class isn't as much of a challenge for him and he practices and reviews at home. Nareth is proud of himself and his computer capacity. In the future he wants to be a doctor and knows that his English and computer skills can be a great help attaining this goal