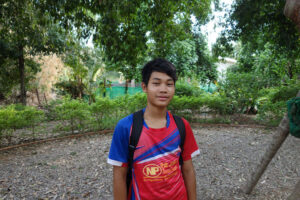 Battambang, KH – Dara is a good brother and role model – 1 Jul 2016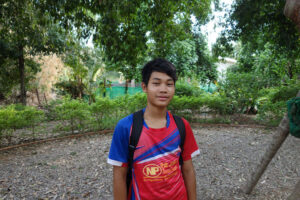 Dara, a 16-year-old student in Grade 8, has been coming to the CFI learning center for five years. With five siblings and dozens of younger classmates, he has proven to be extraordinarily resilient and dependable in his role as a big brother and mentor for younger students.
At home Dara doesn't have much time to himself, since he is the oldest child in the house. In fact, for the last two years, he has been the primary caretaker for his two younger sisters and his younger brother. Each day, he drives his youngest sister to CFI on a bicycle, makes sure his siblings are clean, and ensures that they prepare their schoolwork.
Currently, Dara and his five siblings receive meals and care at CFI so that their father can work during the day and is able to afford a house for them to live in. Before living with their father, Dara and his siblings suffered from consistent physical abuse. During this time, Dara's older sister was moved to a safe house to avoid being trafficked, and the remaining children fled to neighbors' houses. At that point, CFI's social work team became closely involved and set up a support agreement with the children's father, who agreed to become their sole caretaker. As a day laborer, like many other fathers, he hadn't seen his children in years. In order to become their guardian, he was in need of a support system to help him provide for his children.
CFI stepped in to provide this support. Now, with assistance from the social work team, CFI's basic needs program, and the education programs for the children, the family receives the support needed in order to sustain themselves—ensuring that the children can go to school and grow up safely. Without holistic support, this family would not be able to sustain themselves, and the children most likely would not be attending school—the older children would be required to work and the younger children would be left alone in the village.
Dara's Mission
"At CFI I am not studying only Khmer, English, and Computer, but also learning about how important education is to young children."
This belief in the importance of education has clearly impacted his desire to help his younger siblings and younger classmates in their studies. Dara believes that education is a key to being successful in his future. Dara says that one of his role models is a classmate at CFI's learning center— a student who is a helpful friend to others and never causes problems. This is how Dara wants to be—and CFI staff can tell you that he already is! Dara is very good at managing his time— allowing him to both go to school and help his friends when needed.
Because Dara's life has been impacted by crime and violence, his goal is to be policeman in the future. He says that he wants to ensure that his family and his community are safe, and that everyone living in the community can be safe from crime and violence.
During his free time, Dara likes reading books, doing his homework and enjoying the many activities offered in CFI's library. Besides these activities, football is his favorite sport.