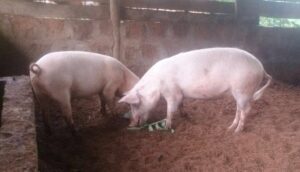 Mt Kilimanjaro, TZ – First "Happy Pig" sold in Mkyashi to rave customer reviews – 14 Mar 2016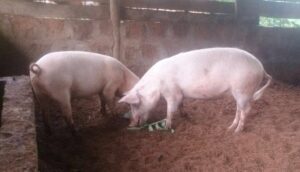 On 22 February 2016 Lishe Bora the first of two pigs they were raising in their "Happy Pig" pig pen. They butchered and sold the pig by the kilo at the local butcher's shop and earned 330,000 TZS (US $157). They estimate a margin of 75,000 TZS (US $36) on the sale. Customers immediately started asking when they would sell the next pig, because the first one tasted so good! Lishe Bora is looking forward to selling the second pig over the Easter holiday when they expect demand to be high.
The pigs were raised organically and according to best practices allowing the pigs to be as "piggy" as possible. They were fed a nutritious diet of leguminous grasses, protein, and grains. The homemade feed costs more per kilo than store-bought food, but it reduces the need for medications and fattens the pig quicker, which leads to lower total costs. Instead of expensive de-worming medications, the pigs were given green papayas and shredded carrots and garlic once per week. Additionally, the floor of the pig pen was a mix of soil, rice hull charcoal, and saw dust. This mixture allows the pigs to follow their natural instincts of burrowing to relax and regulate temperature. Reducing stress is another way to reduce the cost of medication because happy pigs are more likely to be healthy pigs! The flooring is also more sanitary and keeps the pigs' skin clean so they don't require skin medication.
Once they sell the second pig Lishe Bora is planning to buy four new pigs as part of a small, sustainable step growth plan for the project. Eventually they hope pig-rearing can be a major source of income contributing to their financial self-reliance.
The pig pen was built with funding and volunteer labor from a Parmiters School student trip in summer 2015.