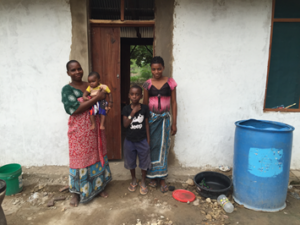 Utete, TZ – Mother improves home for her family – 25 Apr – 2015
The OAM family is one of the families that has benefitted the most from KCM's programs. KCM began employing Asha, the mother of the family, to help with marketing activities. At first these activities were limited to accepting applications for new families to begin vegetable gardens. However, overtime the role has increased to include selling vegetables at the market.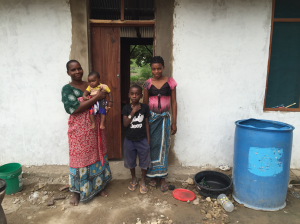 Having employment and a healthy vegetable garden has given the family opportunities for development. Asha was born and raised in Kindwitwi and attended primary school there before leaving to work on her father's rice farm. As an only child, she had a lot of responsibility helping her parents on the farm.
Before working for KCM Asha was self-employed. She made charcoal in her home-made charcoal oven and wove hats, baskets, and rugs to sell at market. This money was hardly enough to support her five children, who are all between the ages of 8 months and 20 years.
In addition to paying normal family and child expenses, Asha's home was a major drag on the family's finances. The home was made with mud and stick walls and it had a grass roof. This inexpensive local construction does not last long, especially in the extreme sun and rainy seasons of Kindwitwi. Asha was constantly having to spend time and money to repair and replace pieces of the house. While the building costs were low initially, the house was completed replaced every four years on average.
Because her home was causing so much stress on her family finances, Asha prioritized building a new home as her first development goal. As an employee of KCM, she was able to get a long term low-interest loan, which she pays with an automatic salary deduction. This arrangement reduces risk for KCM and stress for Asha. Her family loves the new home and now they are able to focus on other goals.
Asha's next goal to improve her living situation is to get a bed and an electrical connection. She is also putting her daughter Amani through nursing school and her son through vocational school so he can become a water engineer.
Despite these improvements, the AOM family still faces challenges. Asha's two primary income sources – working with KCM and working at her farm – are dependent upon her physical health and ability to do manual work. She is nervous that if she ever gets sick she would be unable to perform her work well and her family would suffer. Asha also explains that her expenses are consistently higher than her income, so the family is always scrambling when payments are due to find funds. She hopes that by continuing to diversify her income streams and invest in other projects she can reduce both of these risks.