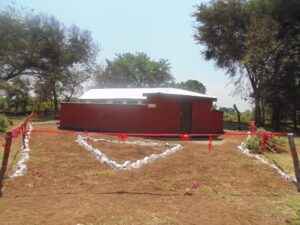 Moshi, TZ – Rau River Primary School receives toilet block – 30 Sep 2014
On August 29, 2014 Tupendane officially presented Rau River Primary School with its new toilet block. The project took Tupendane just over two months to complete and the school was very happy to receive the new facility, which has eight toilets, one urinal, and a storage room.
The new toilet will replace Rau River Primary School's old one. The old toilet facility was insufficient for the school's attendance and it was becoming dangerous. It was built with the septic pit directly below the toilet holes, so as the structure aged there was a risk that it could fall into the hole. The new toilet was built with a septic pit behind the toilets, so it will last for a much longer time and will not pose a risk to students.
The toilet facility was built with assistance from volunteers from Rollins College, who helped dig the foundation and the first 1.5 meters of the latrine pit along with students from the school. Funding for the toilet was contributed by The Dar es Salaam Charity Goat Races. This annual event is one of the biggest fundraisers in Tanzania, and Tupendane was honored and excited to have its application for funding accepted.
Rau River Primary School has already shown that they feel a sense of ownership for the project. Before it was even completed they began doing landscaping around the entrance to the toilet. There was a large ceremony held for the formal presentation of the toilet with students, administration, and local government present.